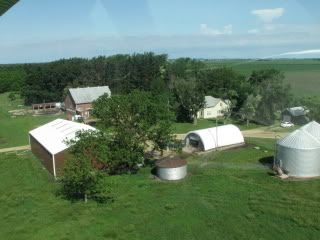 Hello and thank you for your interest in Sandy Lane Dairy Goats.  We are located in Northern Illinois about two hours west of Chicago.  My name is Sarah Delhotal, I'm currently a Sophomore at Iowa State University studying Dairy Science and Agriculture Communications and I help co-manage the farm with my mom Sue.  We split general goat chores, mom makes cheese and other products, and I manage breeding and genetics in our herd as well as taking care of the website design.

My interest in goats began in 2004, after getting tired of just looking at goats at the fairs I knew I wanted one.  I bugged my parents until they allowed me to get two unregistered does from a lady down the road in April of 2005.   I was hooked.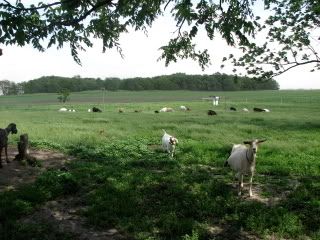 In August of the same year, we purchased an Experimental yearling milker, a LaMancha doeling and a LaMancha buck from the Bemis family of Lost Spring and Coyote Springs Dairy Goats.  These were the foundation for our registered LaManchas and we still have
Molly
and
Caramel
, although we have sold
Falcon
.
The year 2006 brought our first kidding season, as well as our first unexpected bottle babies.  We added two more LaMancha milkers to the herd, as well as some Alpines.  In 2006 we also purchased our first Oberhasli doe kids, we fell in love with them instantly.  We also added Saanens that year.
In 2007 we decided to get rid of the Alpines and concentrate on just three breeds.  We have stuck with LaManchas, Oberhasli and Saanens because of their wonderful tempements and their great tasting milk.  LaManchas are high producers, with good butterfat and protein, and they are so sweet and just fun to watch.  Oberhasli also have great milk, they are more reserved than the LaManchas, very mischevious and oh so sweet.  Saanens tend to have lower butterfat but they produce quite a bit of milk.
We breed only the best we can, and use the best genetics we can find. 
Our LaMancha lines include Lucky*Star, Altrece, South-Fork, Fir Meadow, Rockin-CB, Kastdemur's, Mint*Leaf, Willow-Run and Singing-Hills.  Our Oberhasli lines include Singing-Spruce, Haycreeks, Tonka-Tails, Heaven's Hollow, Ober-Boerd, White Haven and Udderly Crazy, with the majority of our herd tracing back to  SGCH Singing-Spruce Macaroon Spritz 8*M EX91.  Our Saanen lines include Singing-Spruce and Tradewinds with many Top Ten does behind them.  We are lucky to have very good foundation animals.  We breed for an animal that can not only put it in the bucket, but is also structurally correct.  We also try and use lines that have high butterfat and protein along with higher milk weights.  We participated in ADGA's Linear Appriaisal program and we see the use of appraisal scores as a priceless way for us to evaluate and improve our herd.  We are not on DHI test, but we do keep track of how much our girls milk.  We do not show, due to the time involved(and not having a trailer) but we hope that we will be able to show in the next year or two after our herd quality has built up a little bit more.

We worm our goats on a regular basis with an herbal wormer, only using chemical wormers when they need it.  We use no antibiotics unless absolutely necessary, and utilize herbal and homeopathic medicines.  We feed a mix of oats, barley and black oil sunflower seeds as well as alfalfa grass mix hay which we grow ourselves.  The girls all have free access to pasture.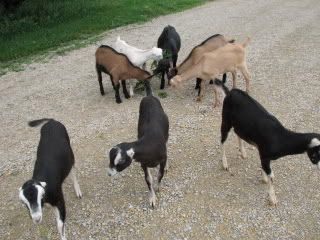 We require a $75 deposit on the kid of your choice. 
No refunds of deposits on cancelled orders.
  Your deposit will be refunded if the kid of your choice is not born.  When reserving kids, please let me know if you would like them registered or not.  Deposit is due two weeks before kidding or sooner.  If you reserve a kid and a deposit is not sent, or the animal is not picked up, then it will be offered back up for sale.  Purchased animals are best to be picked up at the farm.  We can airship at the buyer's expense.  As the breeder, I reserve the right to retain a kid in my herd even if it is already reserved.  When it comes to buck kids, please realize I will not offer up any of my buck kids for sale unless they are up to my own personal standards and I feel they can make an improvement or impact on their breed.
Thank you for your visit, and I hope you enjoy looking at our goats, if you have any questions please feel free to contact us.