I would like to warn everybody, the photos I'm about to post with this article are extremely graphic. If you do not want to see them please press the back button. I am not a vet, this procedure was done by a licensed veterinarian under anesthesia. I am posting this for educational purposes, and why it is better to disbud than dehorn. Gus was disbudded but he still had really bad scurs come back that were like horns.
Starting off on Thursday. At around 4:30pm I was in the house doing chores. My brother came in and told me that Gus broke his scur off. I quickly grabbed the remedies Phosphorus(for bleeding) and Arnica(for pain and bleeding). I went out there and Gus was just gushing blood from his head. He had broke his scur off and it was just hanging there. I immediately gave him Phosphorus every 5 minutes to help with the bleeding and called my mom. She came home and so did my dad and then we called a good breeder friend. She suggested we try an saw it off *gulp* Dad and I held Gus while mom tried to saw it off, but with no avail, it just made it worse. We called my friend back, she said we can take him to her house and she'd saw it off. We thought about it and we decided to wait until morning so we could do it at the vets so the vet could clamp off any arteries. We put a pressure bandage on his head which stopped the bleeding. My dad sat with Gus while I went and milked the girls. When I came back the bleeding had stopped. It was around 7:30 by then and we gave him a couple more remedies for pain and bleeding and went off to bed. I was covered in blood, I felt so sorry for Gussy.
Next morning when I got up his bleeding had started again. I gave him some more Phosphorus and Arnica and went and did chores. We had an 11am app. with the vet to have his scurs removed(his scurs were like big horns) After chores we went out and changed his head dressing again as it was all bloody. After we changed it, he started bleeding again. I gave him Phosphorus and a very high dose of Arnica and his bleeding slowed. We took him to the vet then at 10:30. When we got to the vet they immediately took us to the back room. She gave him a local anesthesia as well as several shots of local blocks in the nerves of his face around his eyes to numb the head and horn area. He was out in 10 minutes.
Now, I am giving those with a weak stomach the option to go back now, I want to warn you these pictures are very graphic.
*
*
*
*
*
*
*
*
*
*
*
*
*
*
*
*
*
*
*
*
*
*
*
*
*
*
*
*
*
*
*
*
*
*
*
*
*
*
*
*
*
Ok, so you want to see them. Don't say I didn't warn you.
This is a picture of Gus I took about a month ago, just so you can see what his scurs looked like. This picture was taken after a tree branch fell on his head. Before that incident, his scurs stuck up more than what they do in the photo: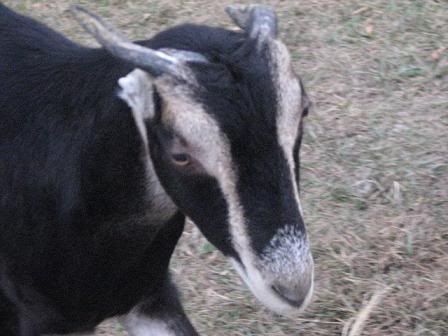 Here is what the back of his head looked like(the yellow stuff is an iodine disinfectant):


The red arrow points to his scur hanging there, it was hanging by skin, if we had tried to pull or saw it off ourselves, we may have done more damage than good:


The scur removed on the broken off side, note the arteries are clamped off: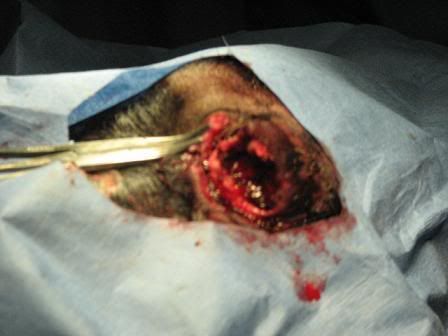 Cauterizing the arteries with a hot iron: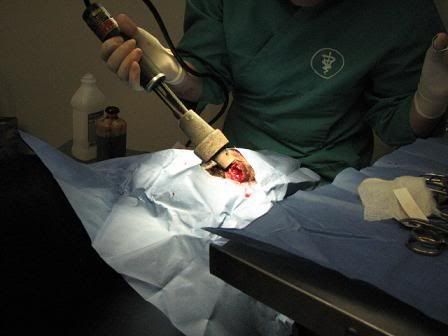 The intact scur before sawing: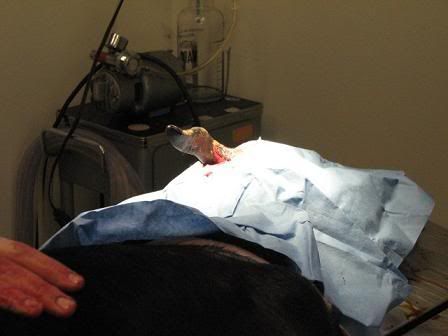 Sawing the scur off with a wire saw:


The removed scur, you are now looking strait into his sinus cavity, it was all hollowed out in there(I thought that was so cool); again, notice the clamped off arteries: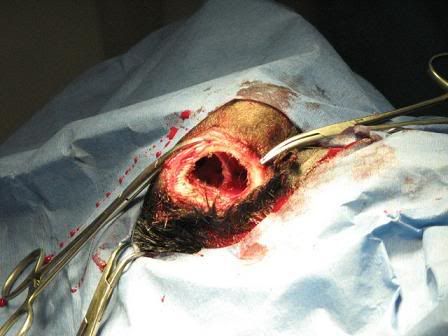 The bottom of the removed scur: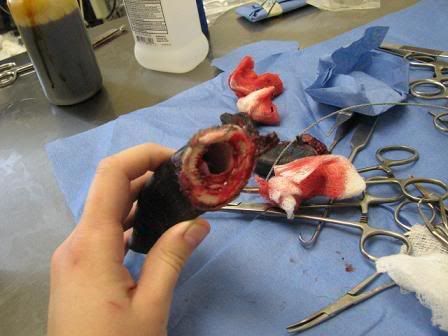 The scur that was broke off:


Like I said before, I am not a vet, I only posted this in reference to how stressful dehorning is compared to disbudding. Gus was disbudded, but he was done improperly which resulted in horn like scurs. Gus has made a complete recovery since the dehorning and is back to his old self again. He does have scurs, but they are not near as bad as what they were. Here is a good link on how to disbud kids: http://fiascofarm.com/goats/disbudding.htm