Coyote Springs Strike's Falcon
Falcon was such a nice buck, although he himself was not that nice looking, his daughters are long, tall, very dairy with high and wide udder, with nice sized teats and are very easy to milk. He was such a sweety. Falcon has been sold to Mary Kellogg in Oklahoma.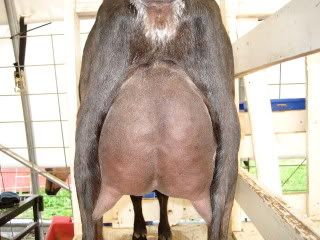 Two of Falcon's first freshening daughters.
Back
::
Next
Coyote Springs Strike's Falcon
Purebred LaMancha
ADGA Reg #L1305225
DOB: 04/22/04
Color: Black Roan; Gopher Ears
Sold to Mary Kellogg in Oklahoma
This pedigree page was built for free at
SitStay.com